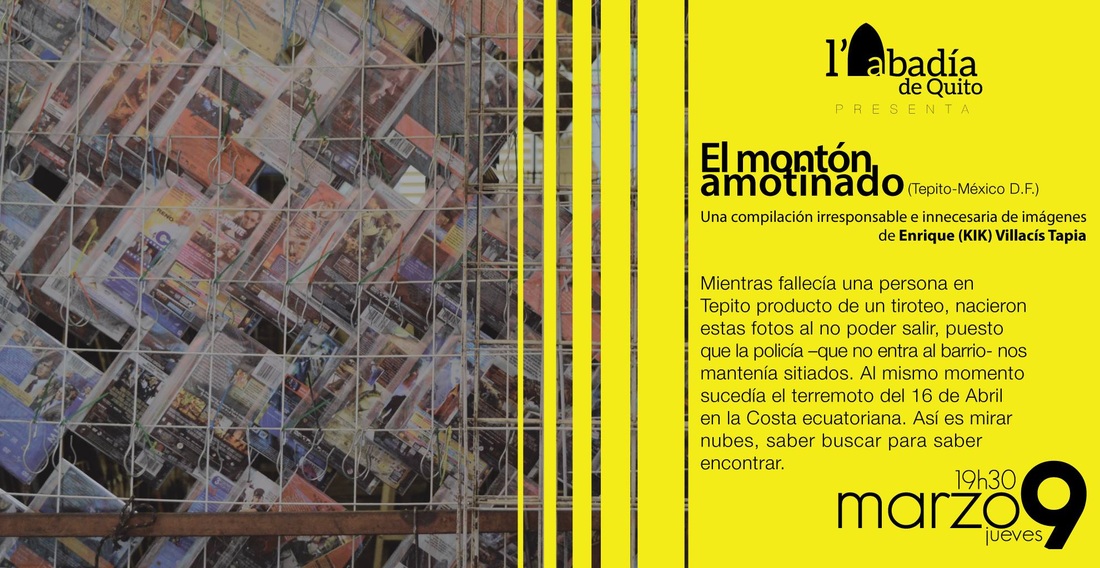 El motín amontonado o el montón amotinado (Tepito-México D.F.)

Buscando la voz del lugar, después del vértigo de sumergirme en una ciudad, el D.F. Mexicano, que tiene al Ecuador entero en sí misma, emergí con la acumulación en Tepito, un barrio poco visitado por "visitantes", que encarna mucho esa identidad "amontonada" mexicana, chilanga. Esta es una compilación irresponsable e innecesaria de imágenes, ya que no tiene un fin social ni de denuncia, si no puramente de placer y deleite estético. Sin embargo con una fuerte posición política, esta fotografía no busca ser documental, sin embargo documenta la vida de un lugar, sin mostrar vida en sí mismo, y a partir de su memoria retrata su apretada esencia.

The crowded riot or the riot in the crowd (Tepito-México D.F.)

Searching for the voice of the place. After the vertigo felt by diving into Mexico City, that has all Ecuador within it, I emerged with a gathering in Tepito. A neighborhood rarely visited by visitors, a neighborhood that incarnates the Mexican and chilanga identity of "accumulation". This is an irresponsible and unnecesary photo compilation, because it does not have a social end nor a demonstration, but it seeks purely pleasure and aesthetic will. Nevertheless with a strong political stand, this photography does not seek to be documental although they document life in Tepito, by not showing life by itself, and based on its memory it exposes its tight existence.


En la apertura compartiremos con El LUCHIN! unos beats amotinadamente amontonados!
ESTE JUEVES 9 DE MARZO 19h30
en
L´ABADIA
:
Ladrón de Guevara E13-235, EC170109, Quito